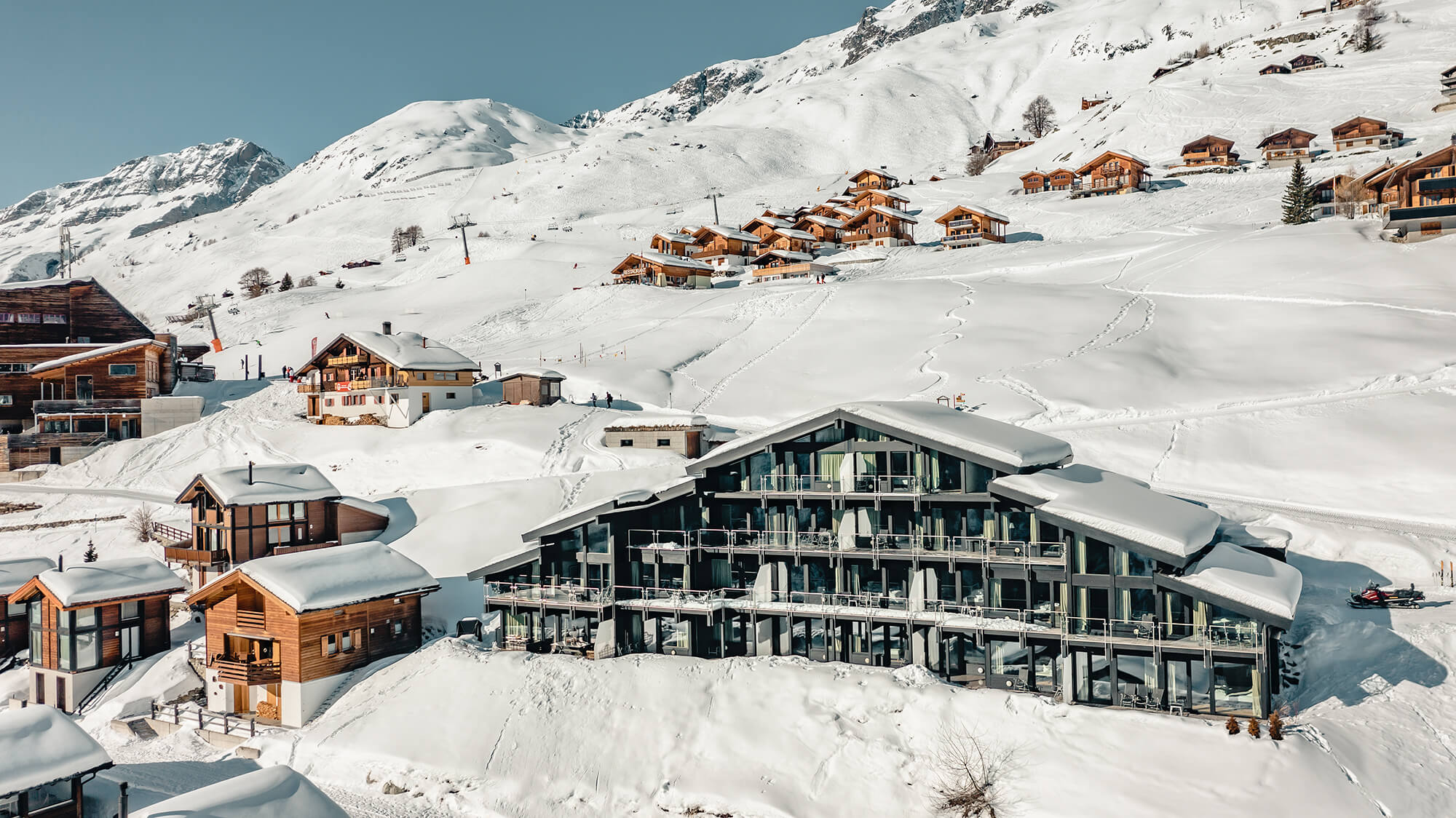 Return to Home
THE WAY NATURE INTENDED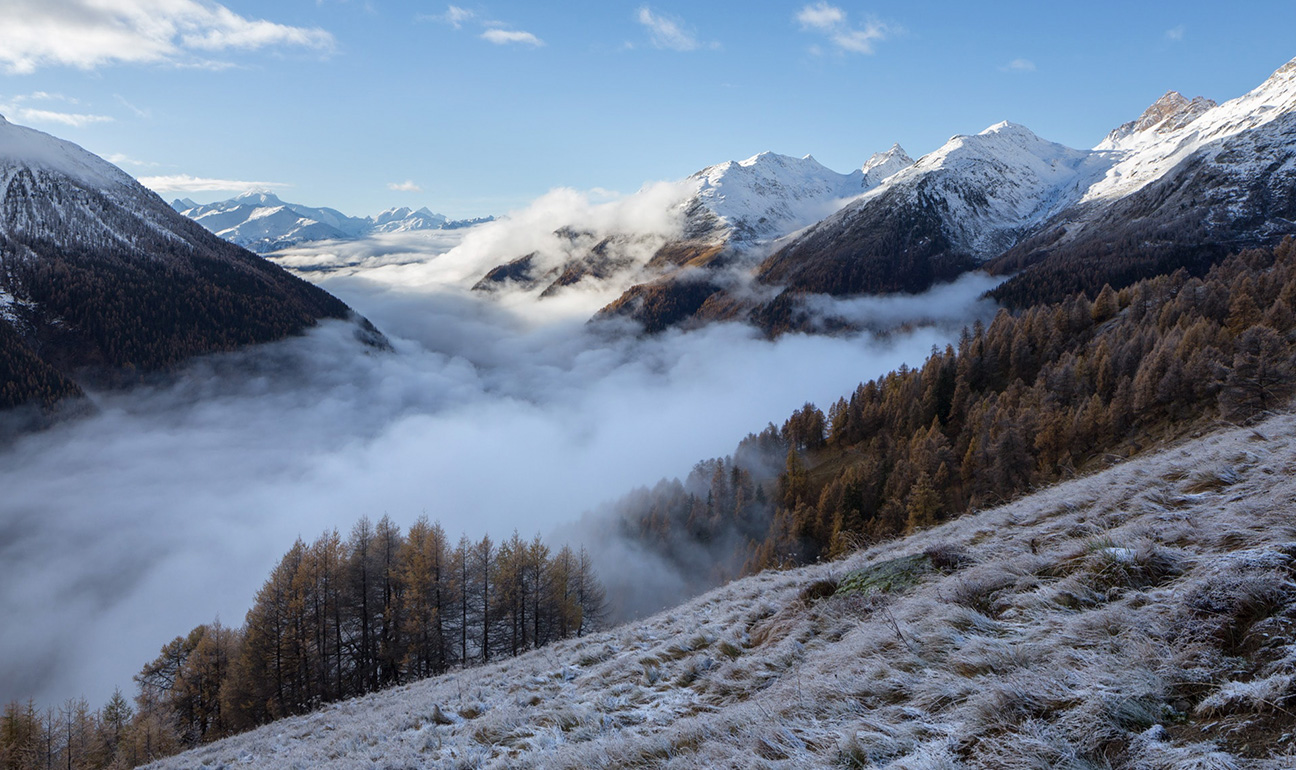 Restoring Life's Equilibrium
the nature of things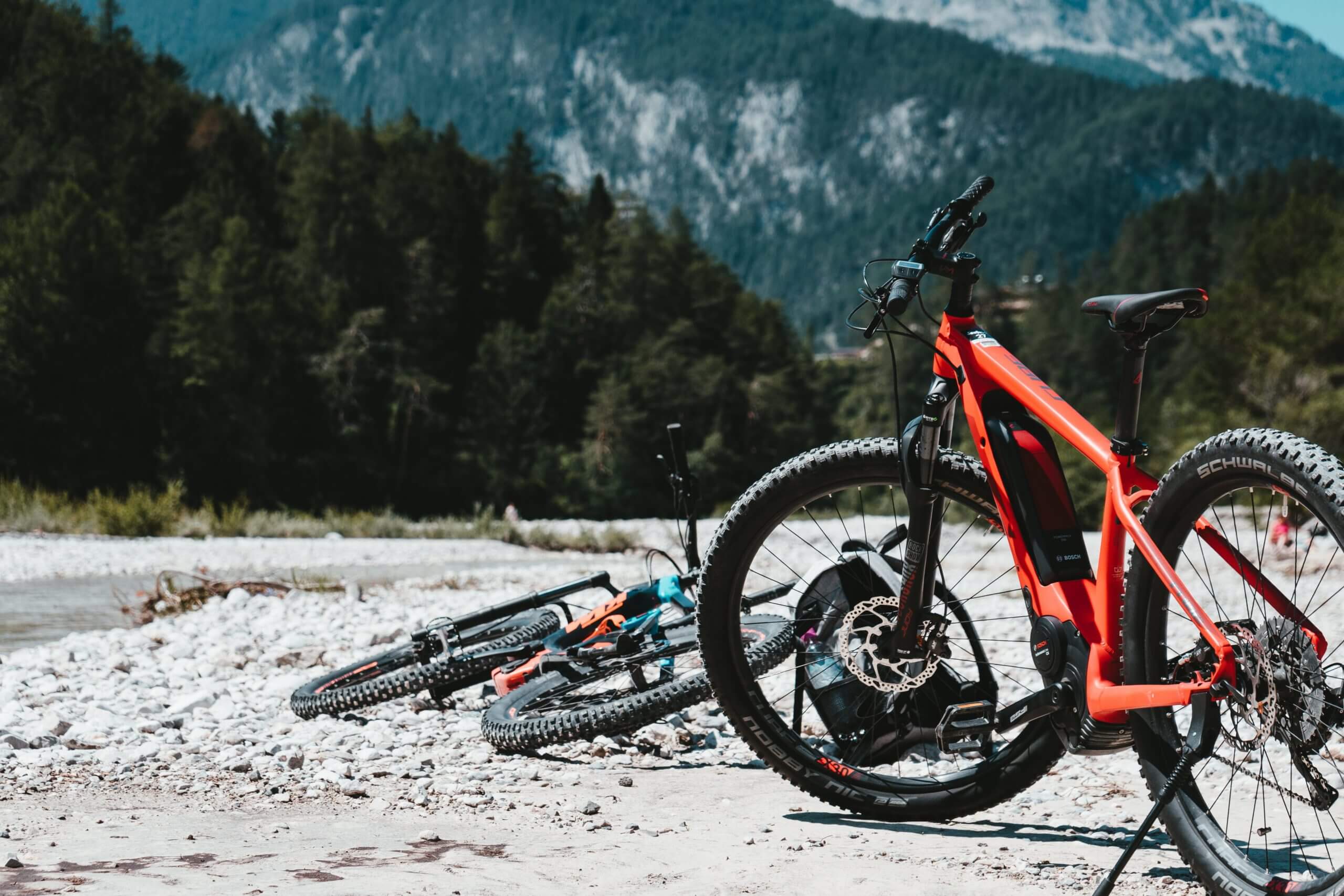 Adventure Haven
Lost, or Fully Found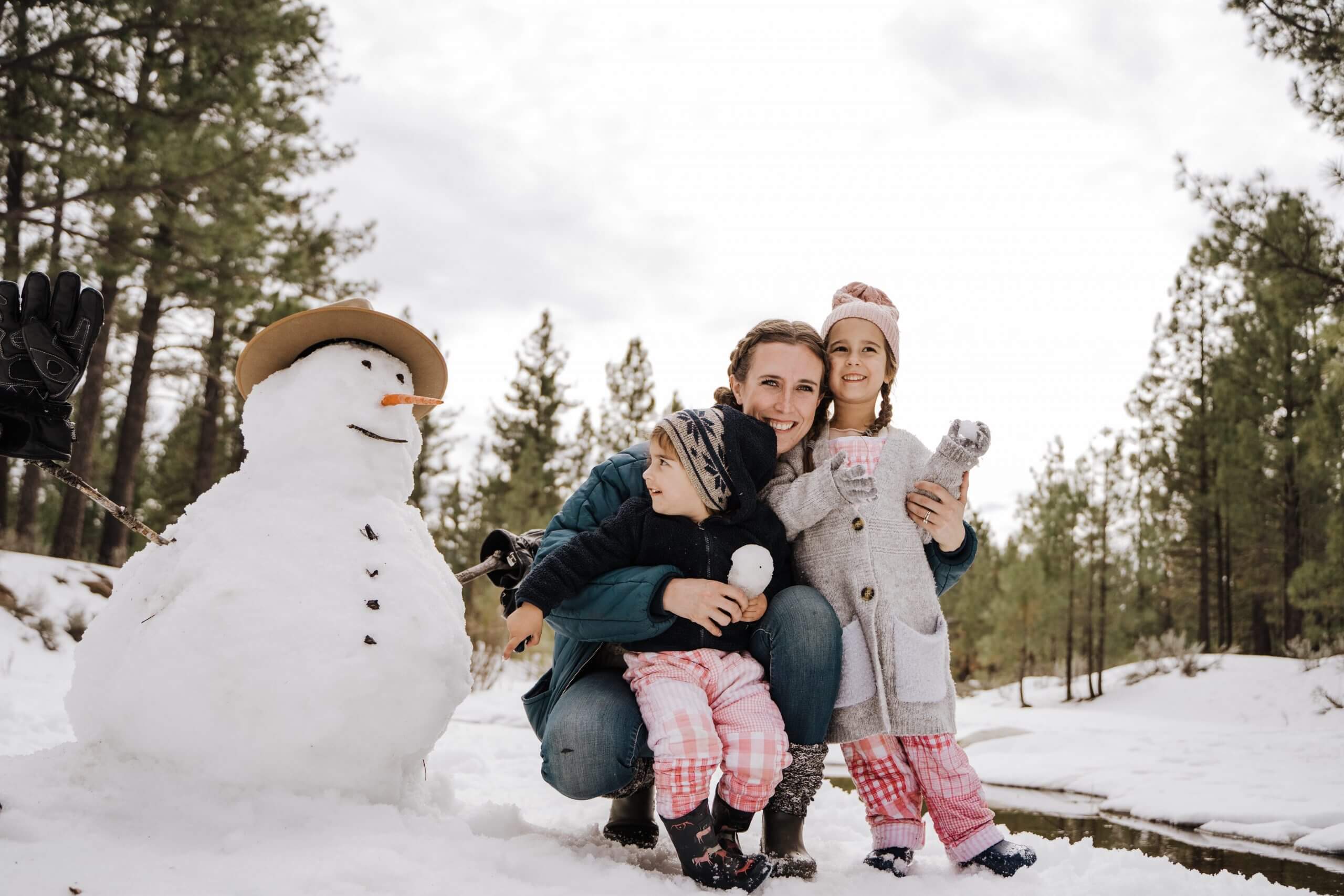 We Value Family Time
share in experiences together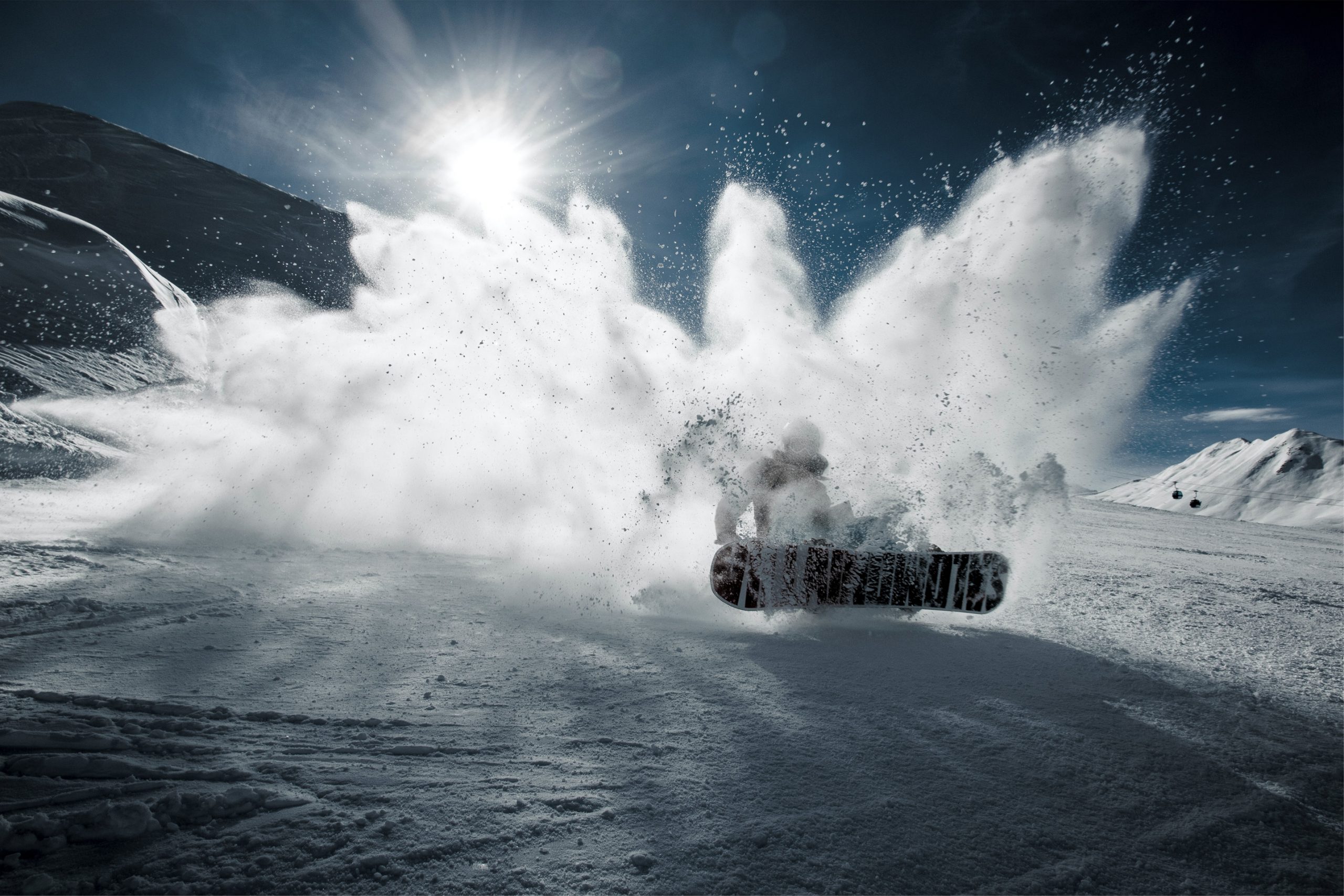 Rediscover Nature's Rhythms
Embrace the Elements
Welcome to the L
ö

tschental
Introducing Lauchernalp
Swiss Resort Residences
a world class destination
The region is part of a UNESCO World Heritage site, a ski and spa resort, in a league of its own. The mountain panorama reveals a landscape that is simultaneously incomparably unspoiled, wild and peaceful. Lauchernalp has kept its boutique and friendly character, and invites you to relax and spend time in nature away from the major tourist centers, but with excellent access. Every season offers vast possibilities for exploring: skiing and free-riding with ski-in ski-out access, gorgeous hike and bike trails, strong cultural traditions and awe-inspiring panoramic views. Invest in forever and experience peaceful alpine living with style and comfort.
"Possibly the last chance to fulfill your dream of owning an exclusive rare family property, immersed within the Swiss Alps."
21 Residences in a managed apartment hotel

Open for Foreign Ownership

Prices from 495,000 CHF

Attractive capital gains headroom and rental yields

Fully furnished Studios, Two bedrooms and Three bedrooms

Turn key professional Rental Management and maintenance 
The Residences come with 
Terraces and glass balconies with 180 degree unspoilt mountain views

Fully equipped modern kitchens for long stays

High speed internet connections for HD entertainment and remote working
The Apartment hotel features
Ski and Mountain bike rooms

Spa area with saunas and steam rooms *

Members lounge + bar *

Concierge services

*Clubhouse expected to be realised in 2025
The Lauchernalp is embraced by the UNESCO World Heritage Site

Untouched Landscape

Rare opportunity to owning property in the Swiss Alps

Boutique Resort & Residences

Activities all year round

Skiing, Snowboarding, Mountain Biking, Hiking, Mountain Lake Swimming, Snow Shoeing, Riding with Husky dogs etc

Ski-in Ski-out direct access

300 days of Sunshine
Experience Exclusive Alpine
Living with Style and Comfort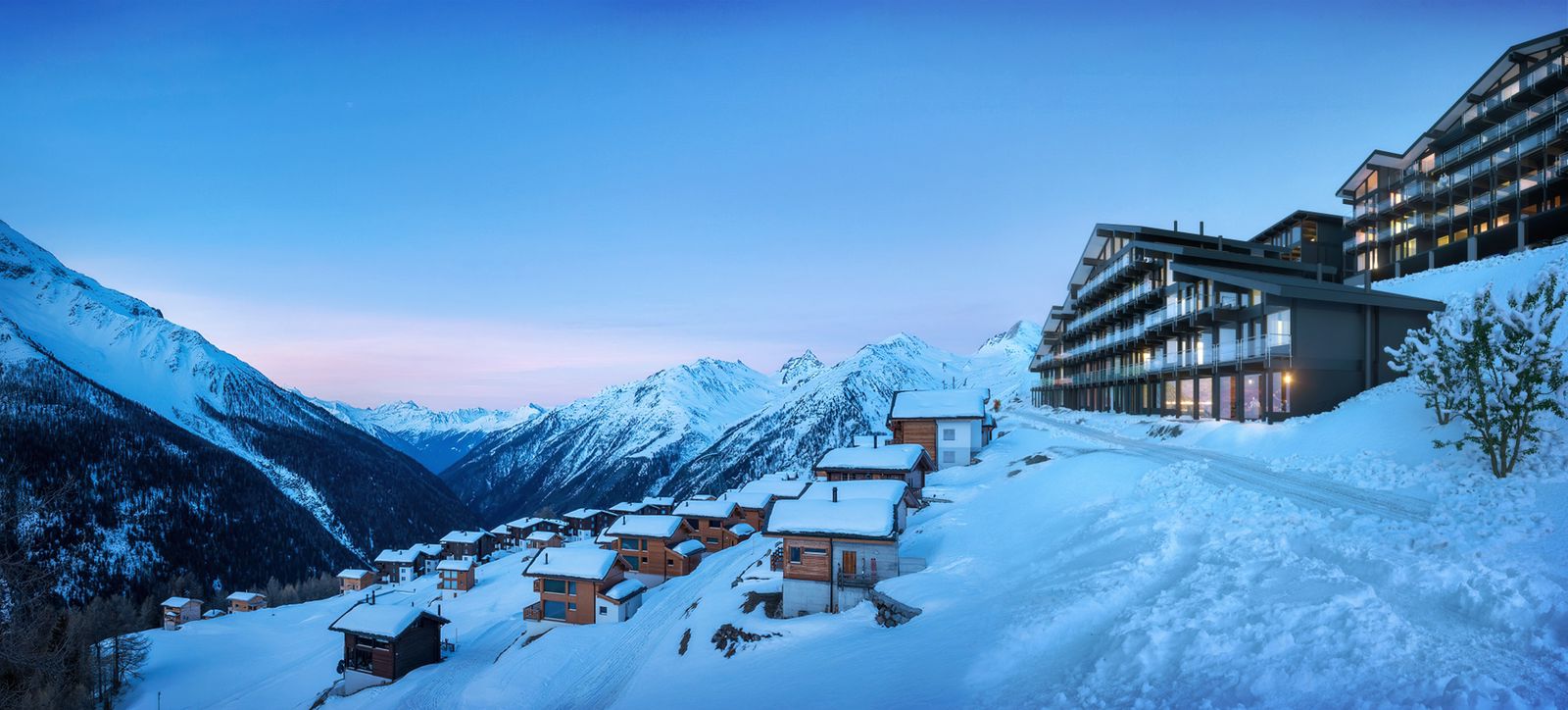 A Long-term Investment
with Immediate Benefits
Residences are treasures to be valued and enjoyed throughout your lifetime but also across future generations. Not only will you benefit from hassle-free living in your own private paradise, but there is potential to appreciate financial returns in years to come.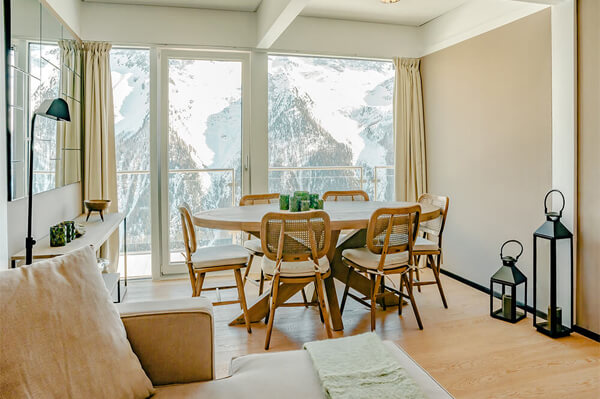 Capturing the very essence of Alpine living
We offer you the opportunity to purchase your very own exquisite residence  from a range of different sizes. Experience  innovative timber framed architecture combined with luxurious interior design, set in a stunning location far away from the major tourist centers.
Find seclusion and privacy yet connection to the excitement and lifestyle of a world-class and year-round destination. With ski-in, ski-out access to the slopes and vistas over the highest peaks of the Swiss Alps, these warm and comfortable chalets and apartments offer everything you need to maximize your time with loved ones.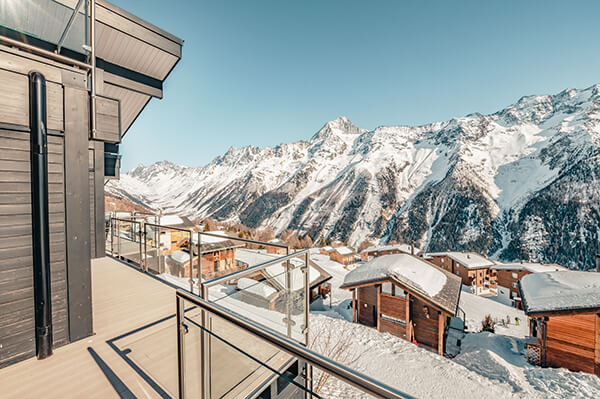 The building has 4 floors with staggered roofs. On the valley side, guests enjoy spacious balconies with grand, extraordinary views of the mountain scenery. The south-facing side has been designed with an astonishing 40m wide fully glazed facade.
A focus on sustainability, state-of-the-art infrastructure and an exclusive location are just a few of the many benefits for buyers who are looking for an exceptional home in Lauchernalp.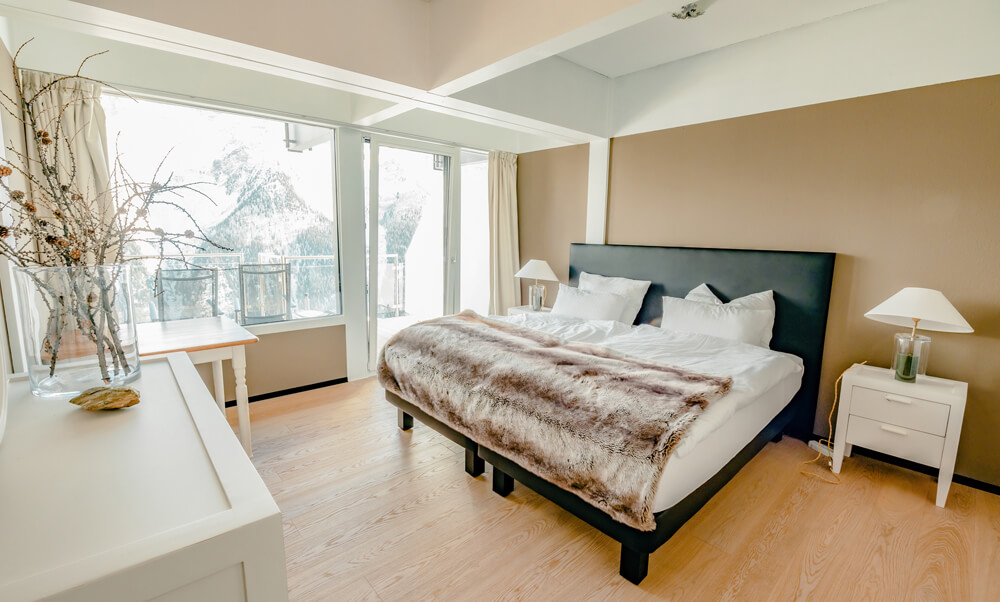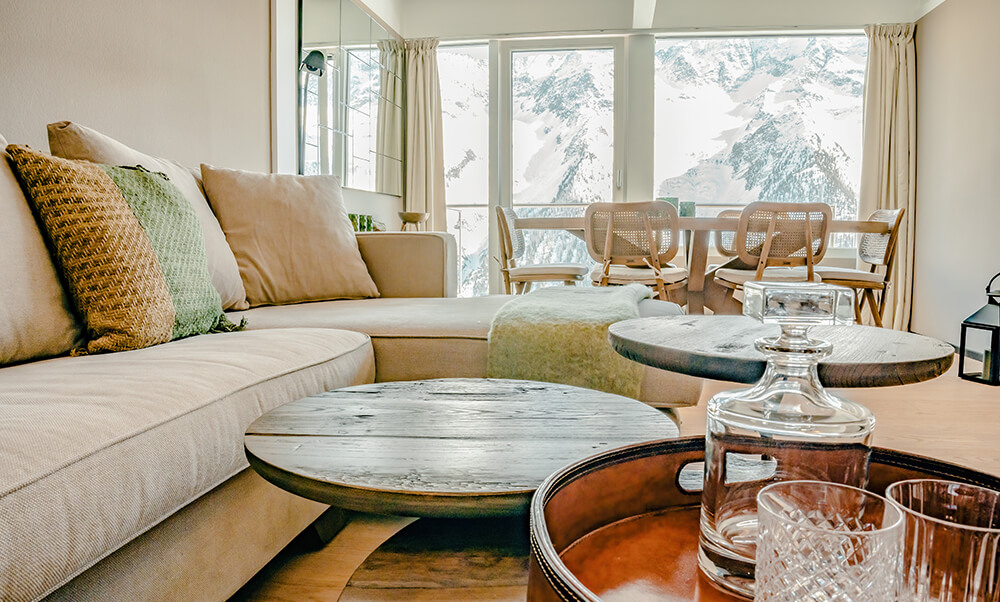 Seamless, Accessible, Integrated Living
Enjoy the freedom of Access
to our On-site Amenities.
Your Residence includes the
following exclusive features.
Capitalise on this unique opportunity to make an attractive investment in prime Swiss Alps real estate. The exclusive apartments are fully furnished and notable for the quality of their construction and fittings. The utmost in user comfort guarantees the ideal prerequisites for profit and long-term value preservation.
Ski Room

Ample locker space to safely store and dry your gear.
MTB Bike Room

Store and repair your valuable gear in a safe space

Members Lounge*

Beautifully furnished lounge with a bar, fireplace and cozy corners.
Spa and Wellness Area*

Tranquil naturally lit space with personal locker and showers, saunas and steam room
Elevator

Connecting your apartment to our on-site amenity and shared spaces
High Speed Internet

Enabling HD entertainment and remote working
*clubhouse expected to be realised in 2025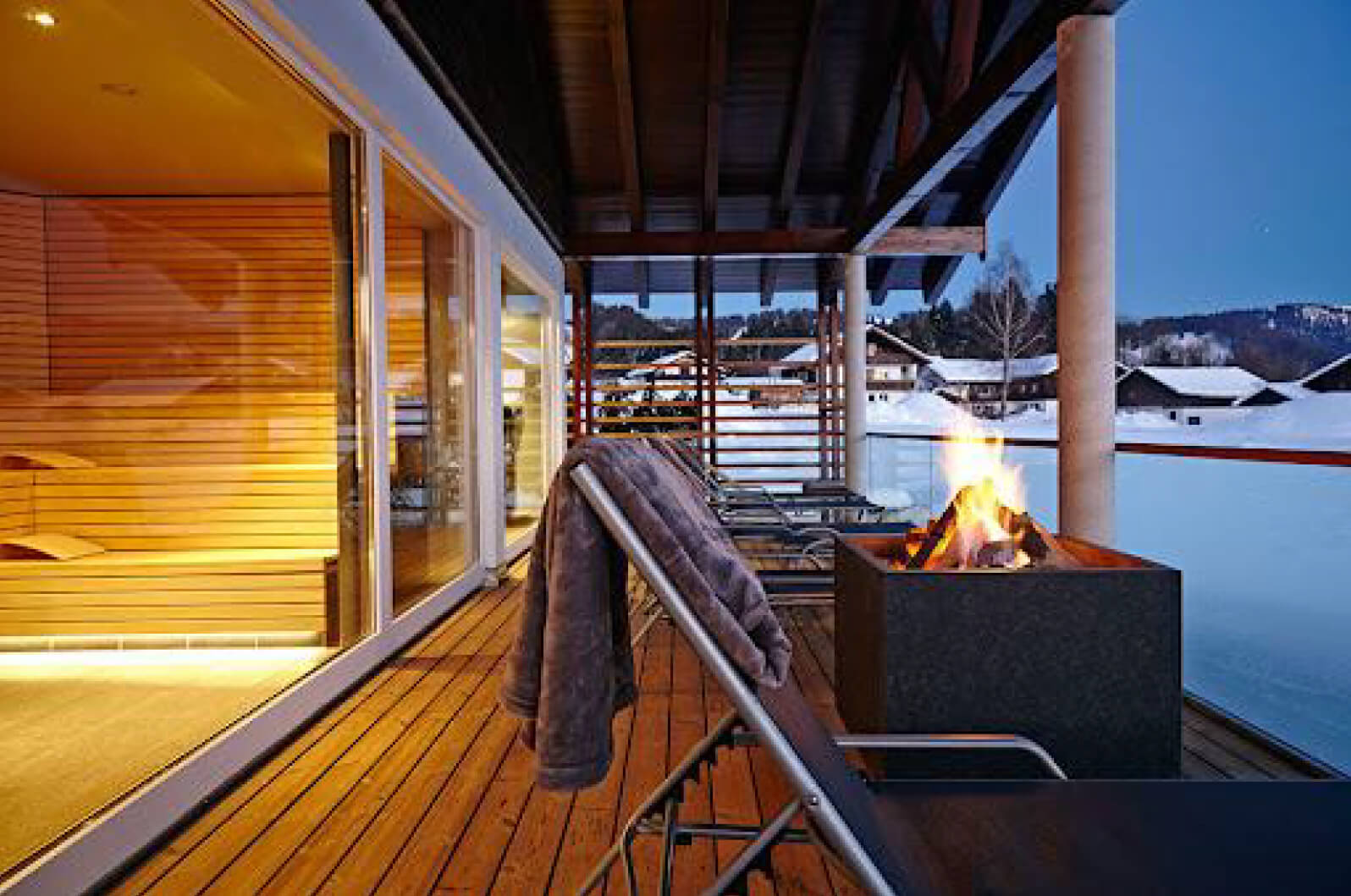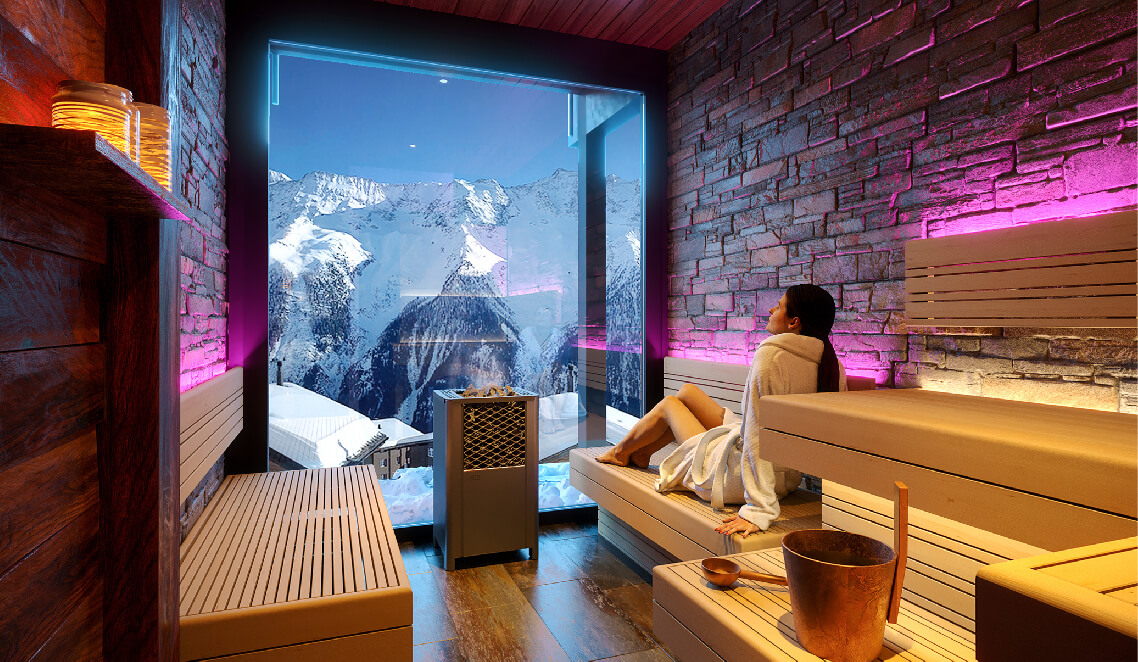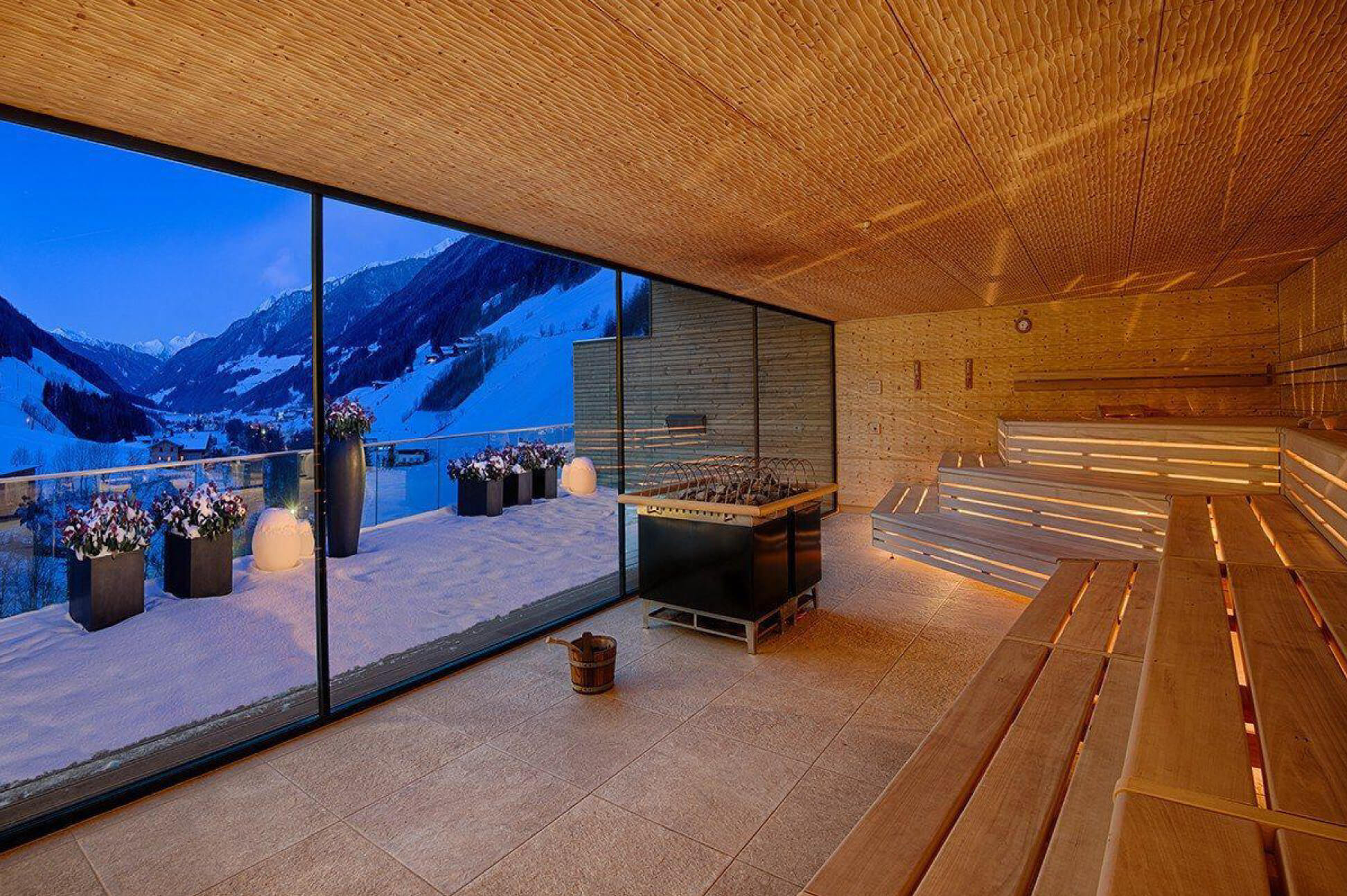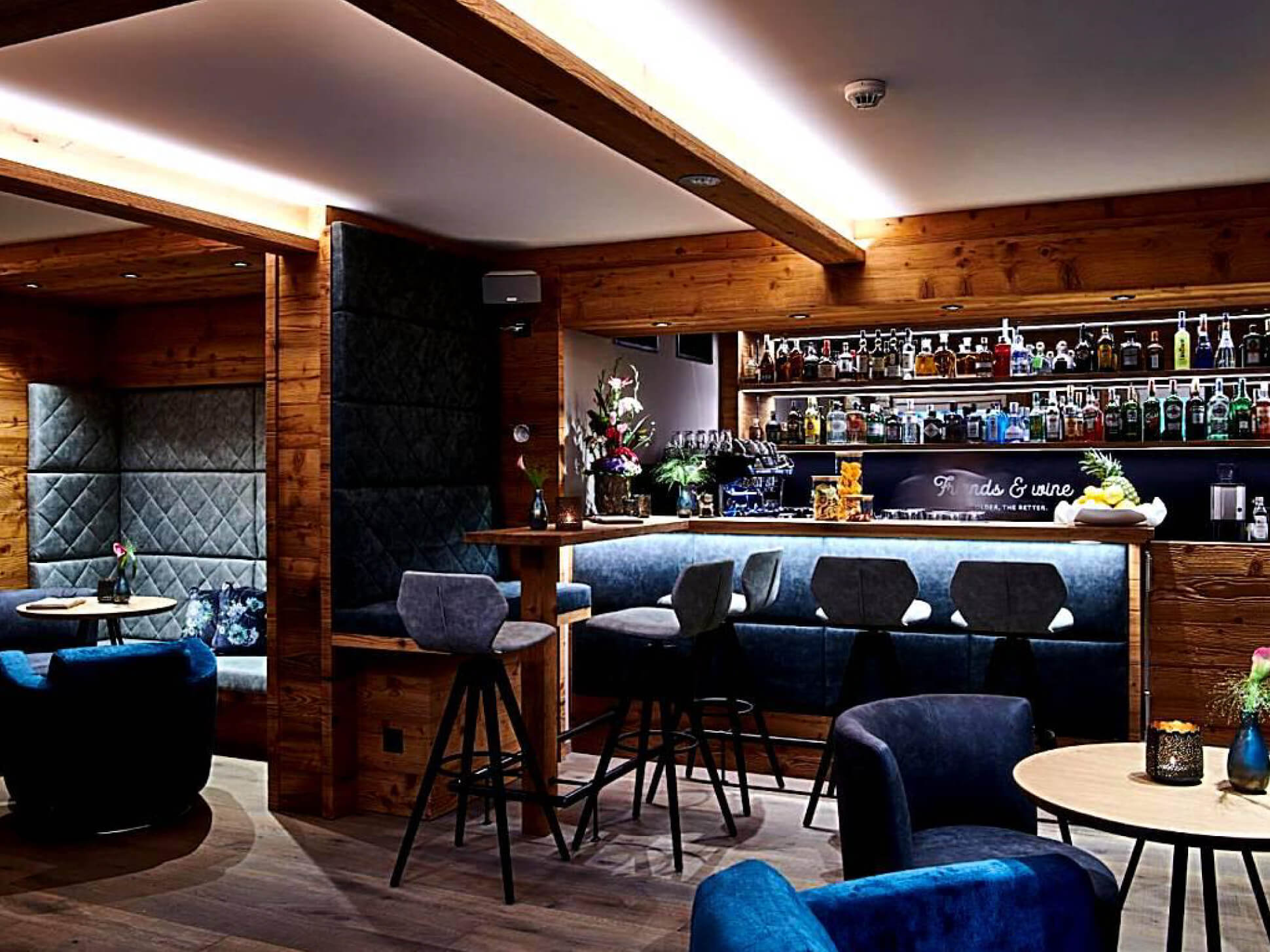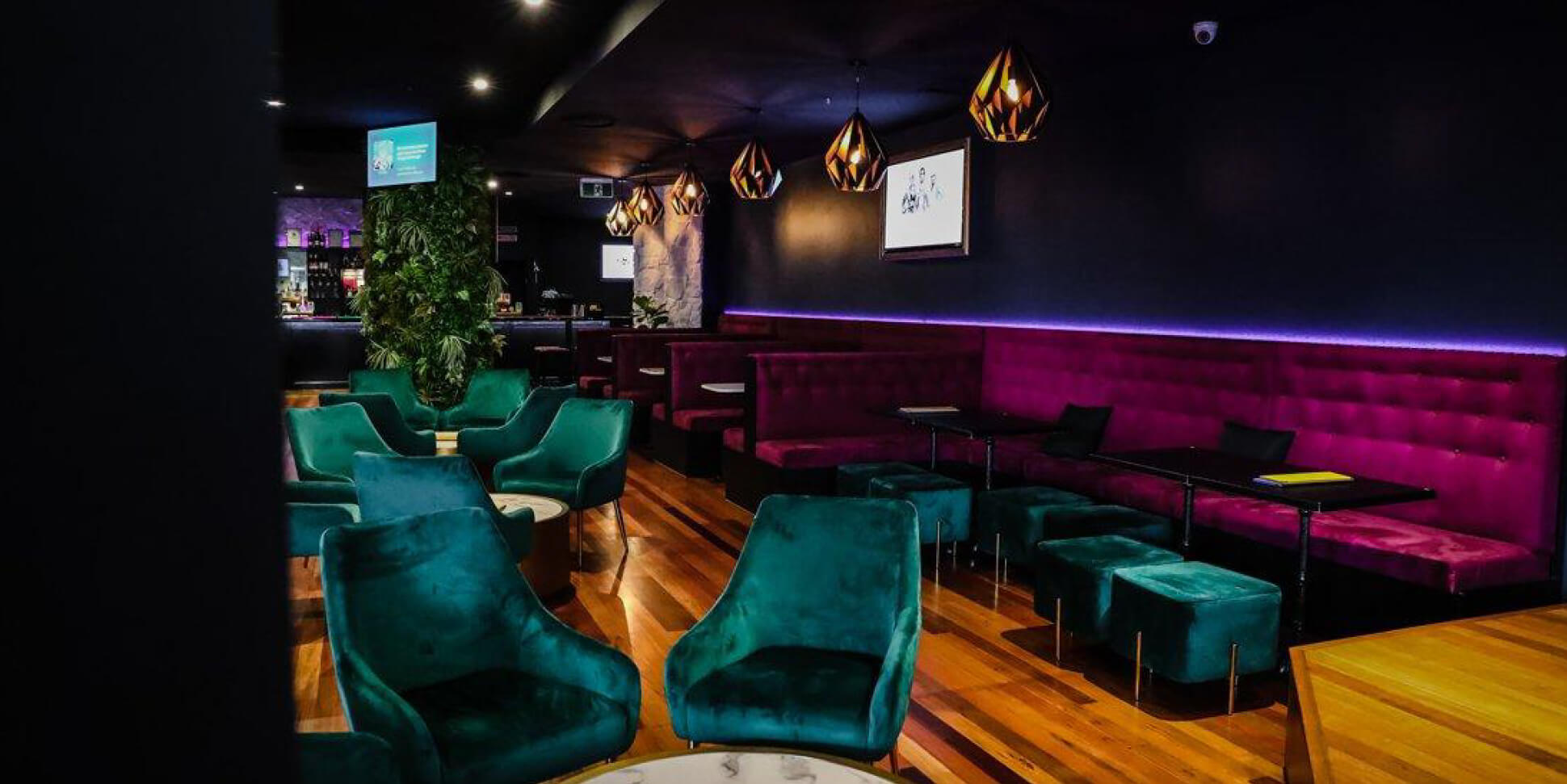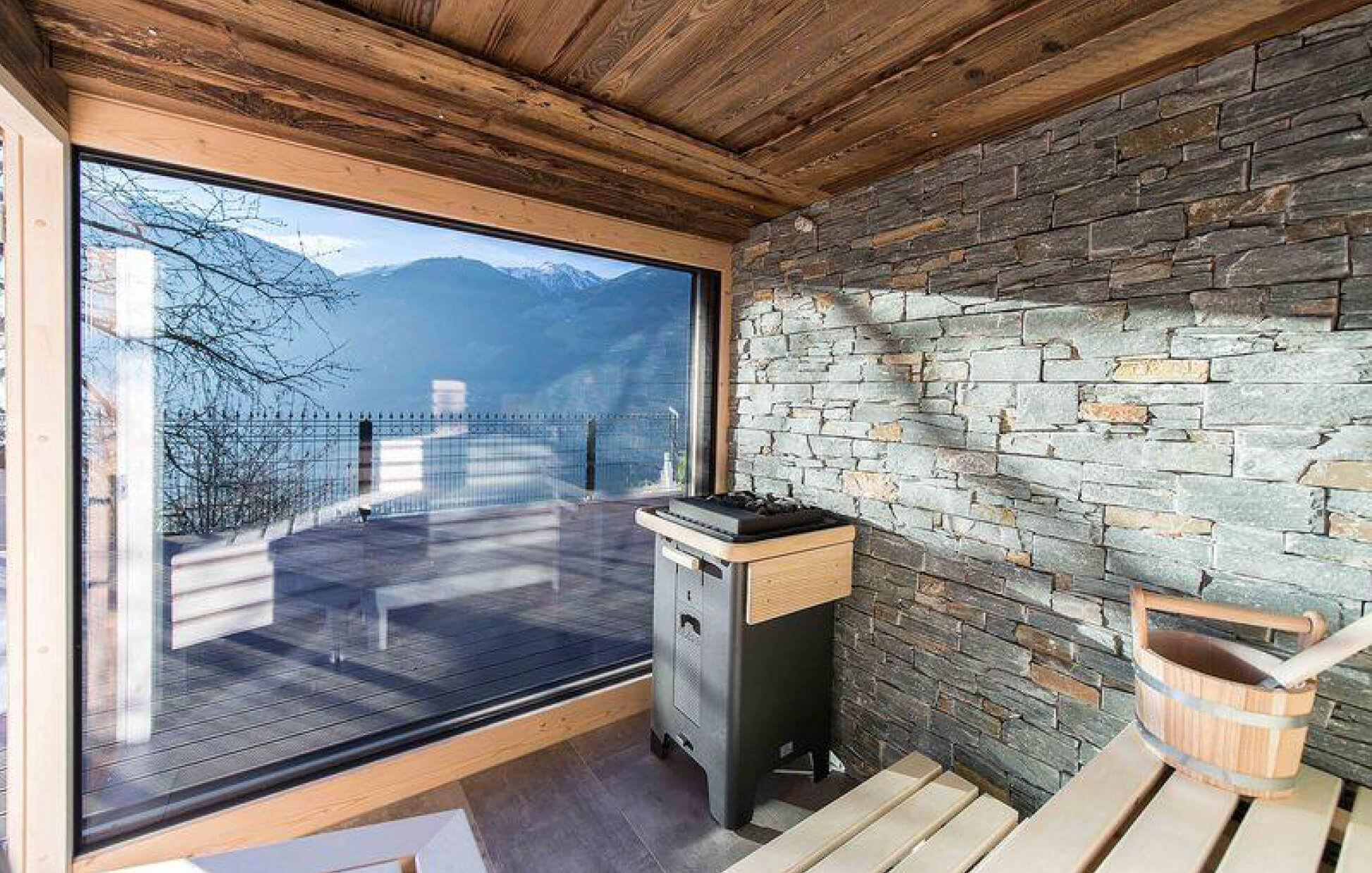 *Conceptual 3D render walkthroughs and artist impression
TOURMALINE RESIDENCE Studio apartments
Our Studio Apartments are all designed with a smart layout that caters for 2 or 4 guests. With a convenient wall bed that pulls out for your additional guests or children. Each Apartment looks out onto the majestic UNESCO World Heritage mountain landscape.

TOURMALINE RESIDENCE 2 bedroom apartments
Our 2 Bedroom Apartments are available in 2 unique variants. The first layout has 2 double bedrooms both with ensuite bathrooms. The second variant has a double room and 2nd room has a bunk bed, with a shared bathroom. Each Apartment looks out onto the majestic UNESCO World Heritage mountain landscape.

TOURMALINE RESIDENCE 4 LEVEL APARTMENT BLOCK
The Tourmaline, named after the precious stone, is set to be built and realised in 2023. This 2nd Phase of Lauchernalp Resort Residences will be constructed by Davinci Haus, world class craftsmanship who are exceptional at designing Stylish Alpine Living. Each apartment has been thoughtfully planned, all with incredible views of the Swiss Alps and Lötschental valley.
TOURMALINE RESIDENCE 3 BEDROOM APARTMENT
Our one of a kind 3 Bedroom Apartment is positioned on the top floor in the Tourmaline Building. With ample living area containing the dining, lounge and kitchen space, and a balcony with exceptional views onto the majestic UNESCO World Heritage mountain landscape.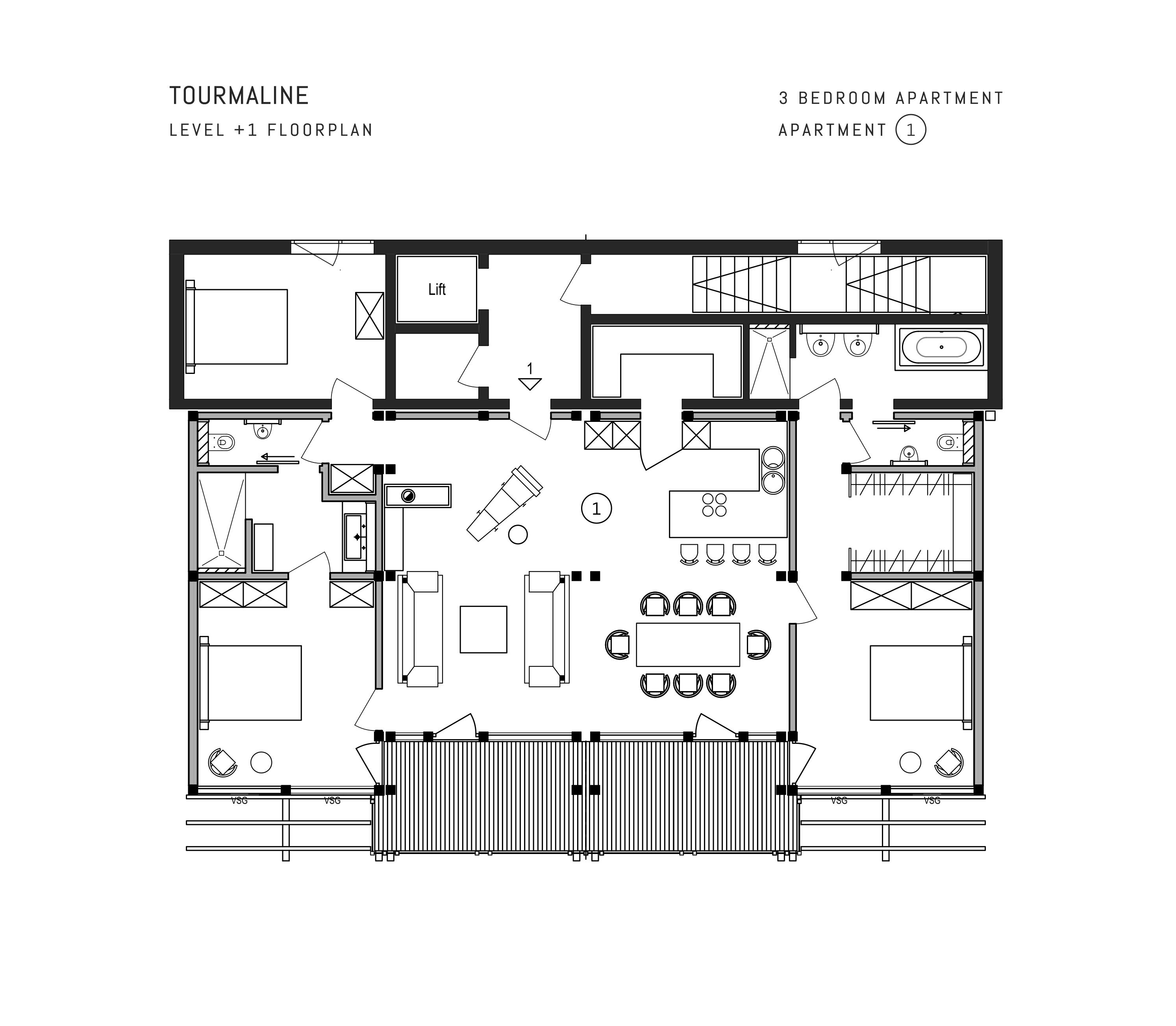 All information, plans and costs up to date as of 1 February 2023
LAUCHERNALP RESORT RESIDENCES IS A FULLY operational resort
Phase 1 Amethyst Realised
Phase 2 Tourmaline Now Selling
Phase 3 Lazulite Coming in 2024
The Perfect Fusion Between Nature and Architecture
These luxurious and exclusive residences  combine the highest standards of comfort with all the relaxation of a natural, slow-paced life in front of a breath-taking backdrop. You will find generous, open plan living / dining areas with open plan kitchen, one or two spacious bedrooms with en-suite bathrooms – and everything in complete harmony, beautifully stylish, and with a touch of luxury.
Available as Studios, 2 Bedrooms or 3 Bedrooms, spanning in size from 40 to 160 square meters, These Residences  represent an excellent investment option, being sold fully furnished with turnkey management.
Inspirational design speaks directly to its natural surroundings and makes the most of unrestricted alpine views
Modern well equipped kitchens with Neolith countertops allow for long term self catered stays.
*Conceptual 3D render walkthroughs and artist impression.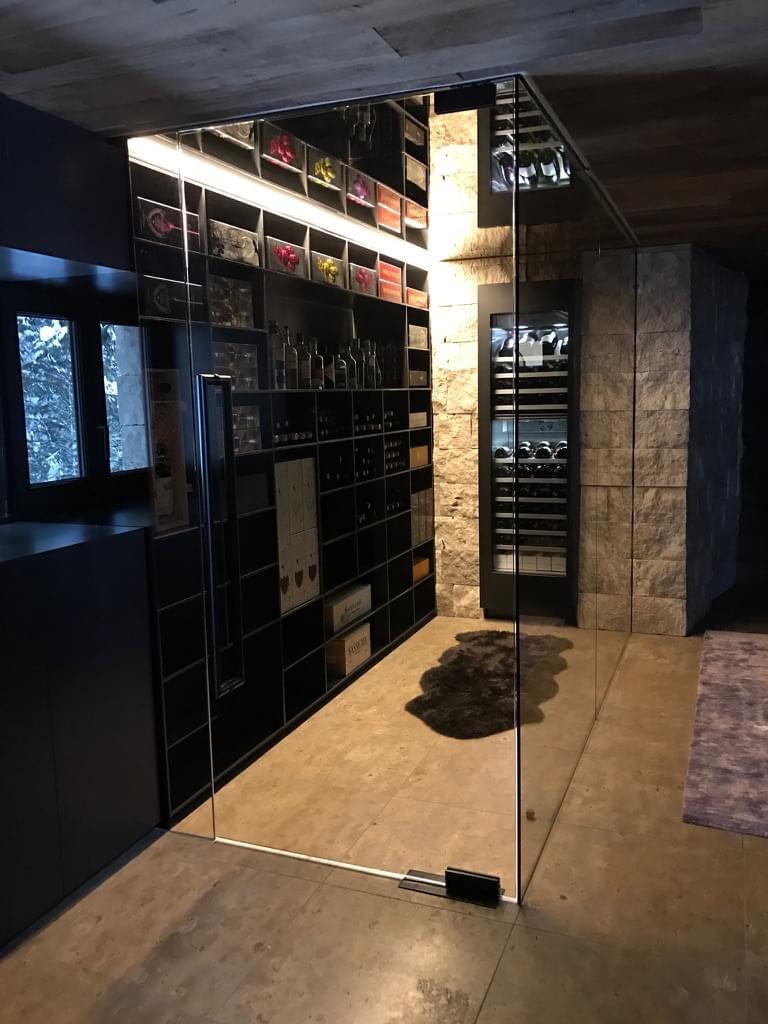 Spec'd to Perfection


curated considered living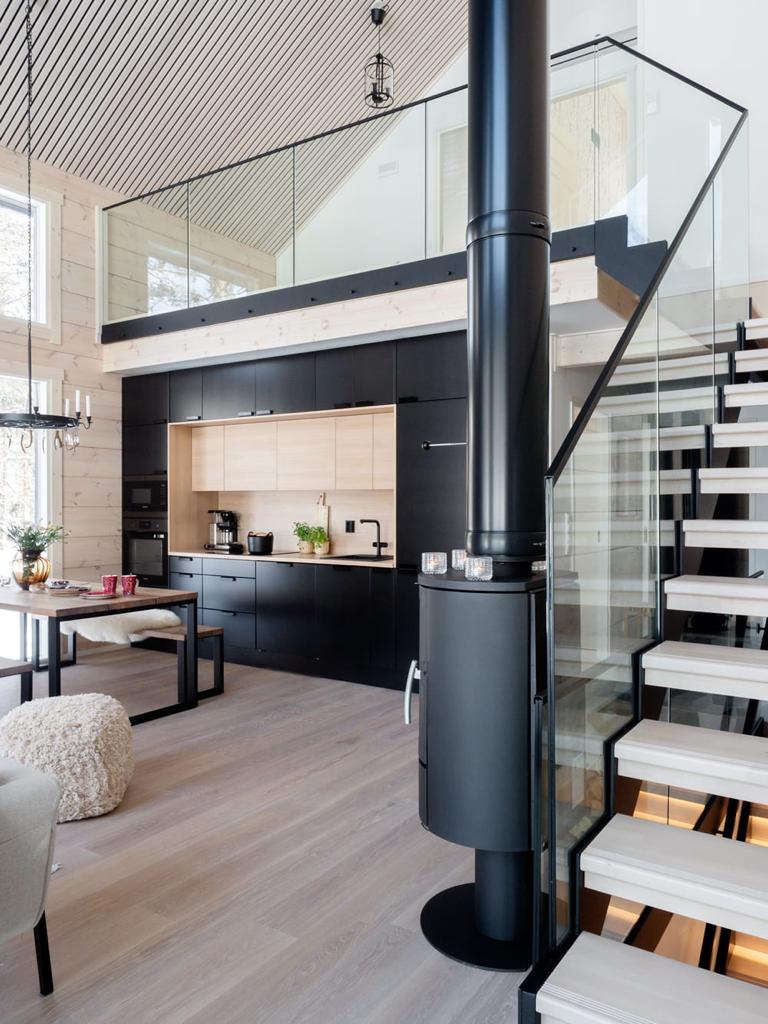 Seamless Design


live well in our open plan spaces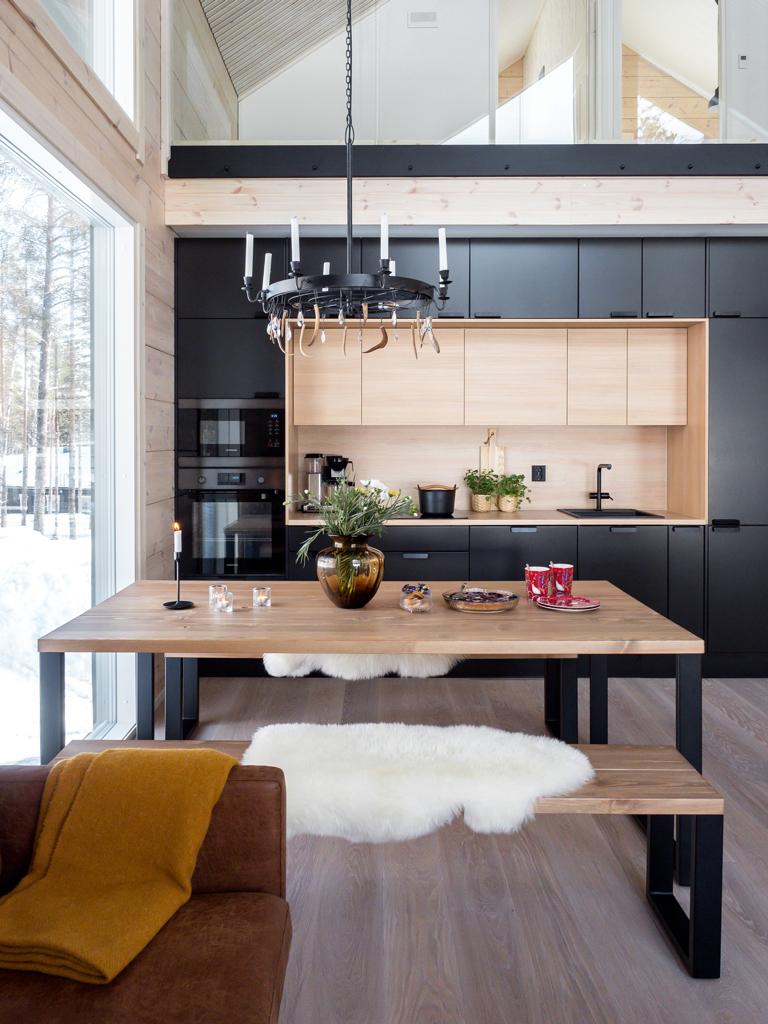 Aesthetic meets Function


high quality filigree timber finishes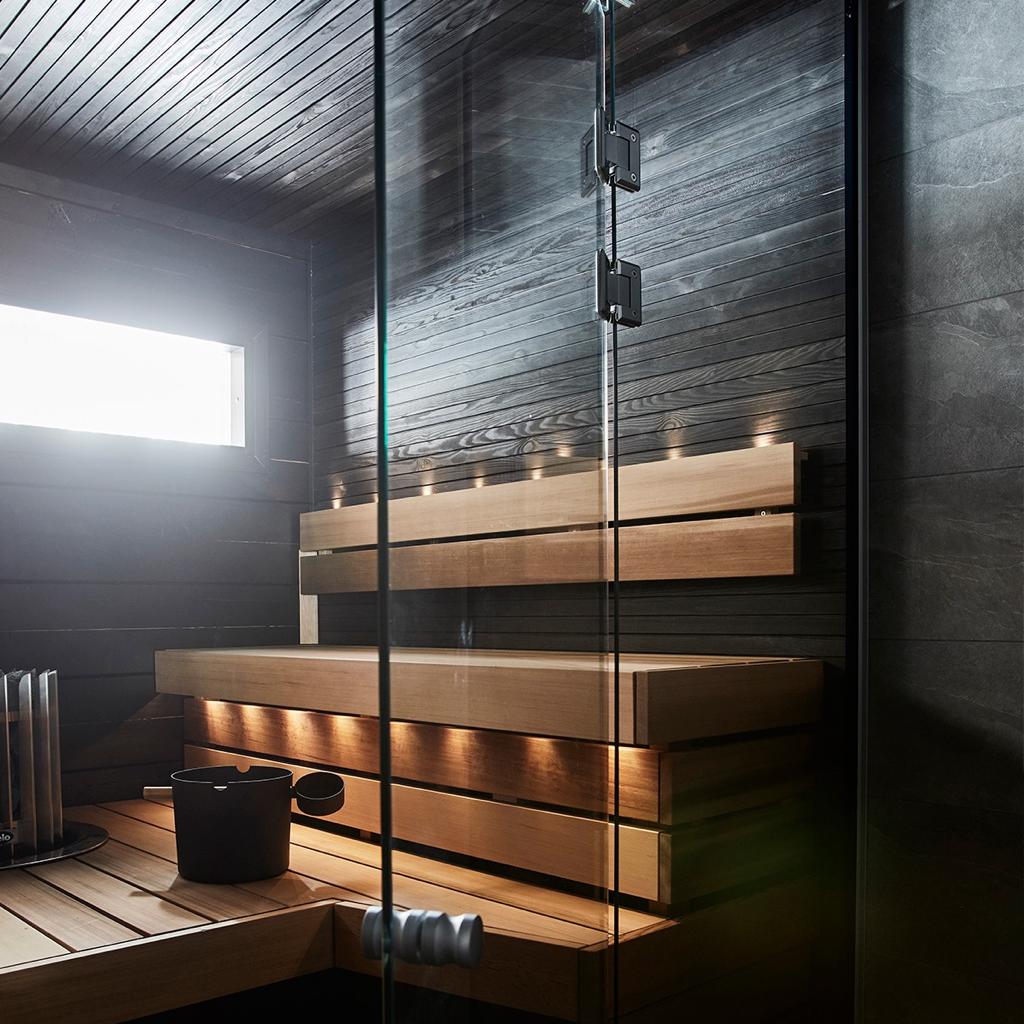 Relax and Unwind


tranquil, peaceful sauna moments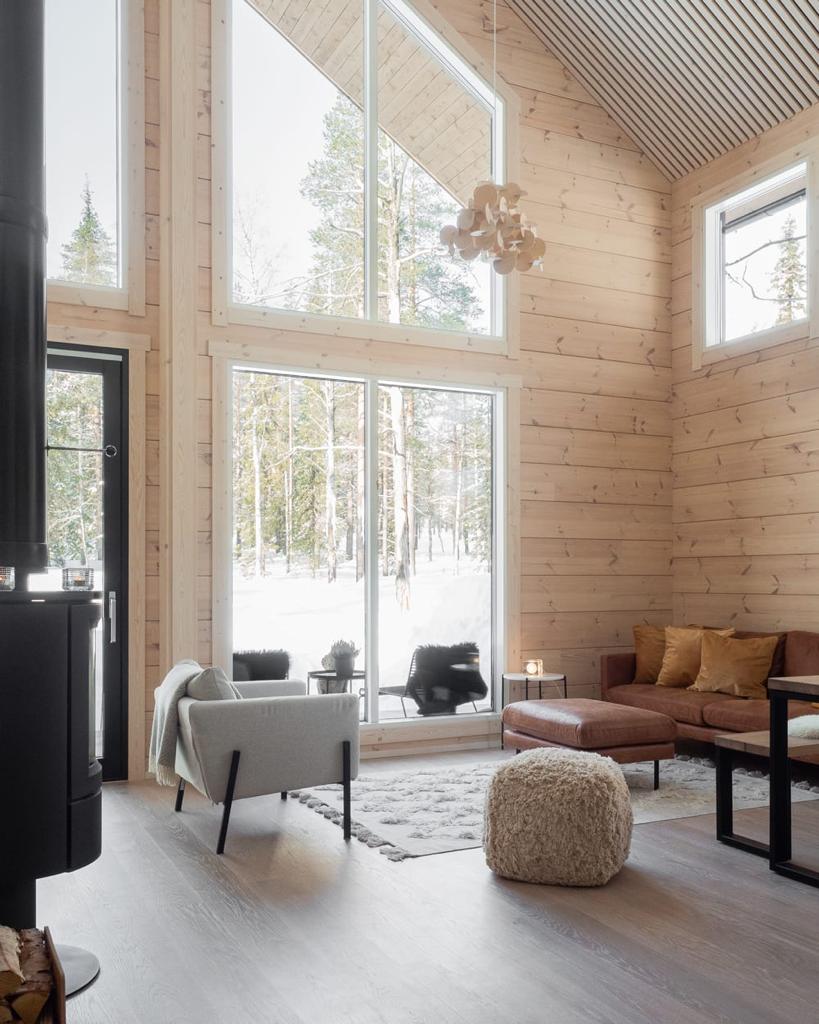 Lifestyle Personified


synthesis of architecture and design
A Buyers Guide to Purchasing Property In
Switzerland
What is the purchase process when buying property in Switzerland?
Can a foreigner purchase a Lauchernalp residence?
What is the expected investment yield?
How many months per year can I stay in my residence?
Lauchernalp is found nestled
within the Lötschental
AN INTIMATE SWISS ALPS DESTINATION
Within easy reach of Bern, Zurich, Milan and Münich. The Lötschental is the largest valley on the northern side of the Rhône valley in the canton of Valais. It lies in the Bernese Alps, with the Lonza river running down the length of the valley from its source within the Langgletscher glacier. Imposing peaks seem to embrace the villages with their larch-covered foothills. Gushing streams and placid lakes add their own touches. The outstanding transport connections mean that the Lötschental is easy to reach throughout the year.
global international infomap
BY CAR
1hr45 drive from bern
2hr20 drive from géneva
2hr50 drive from zürich
2hr45 drive from milan
BY PUBLIC TRANSPORT
journey time from bern ± 1hr30
from zürich and basel ± 3hrs
Local trans-local infomap
RESORTS
Aletsch – 50Min
Crans Montana – 55Min
Zermatt – 1hr15
Grindelwald – 1hr30
Saas Fe – 1hr30
Chamonix – 2hr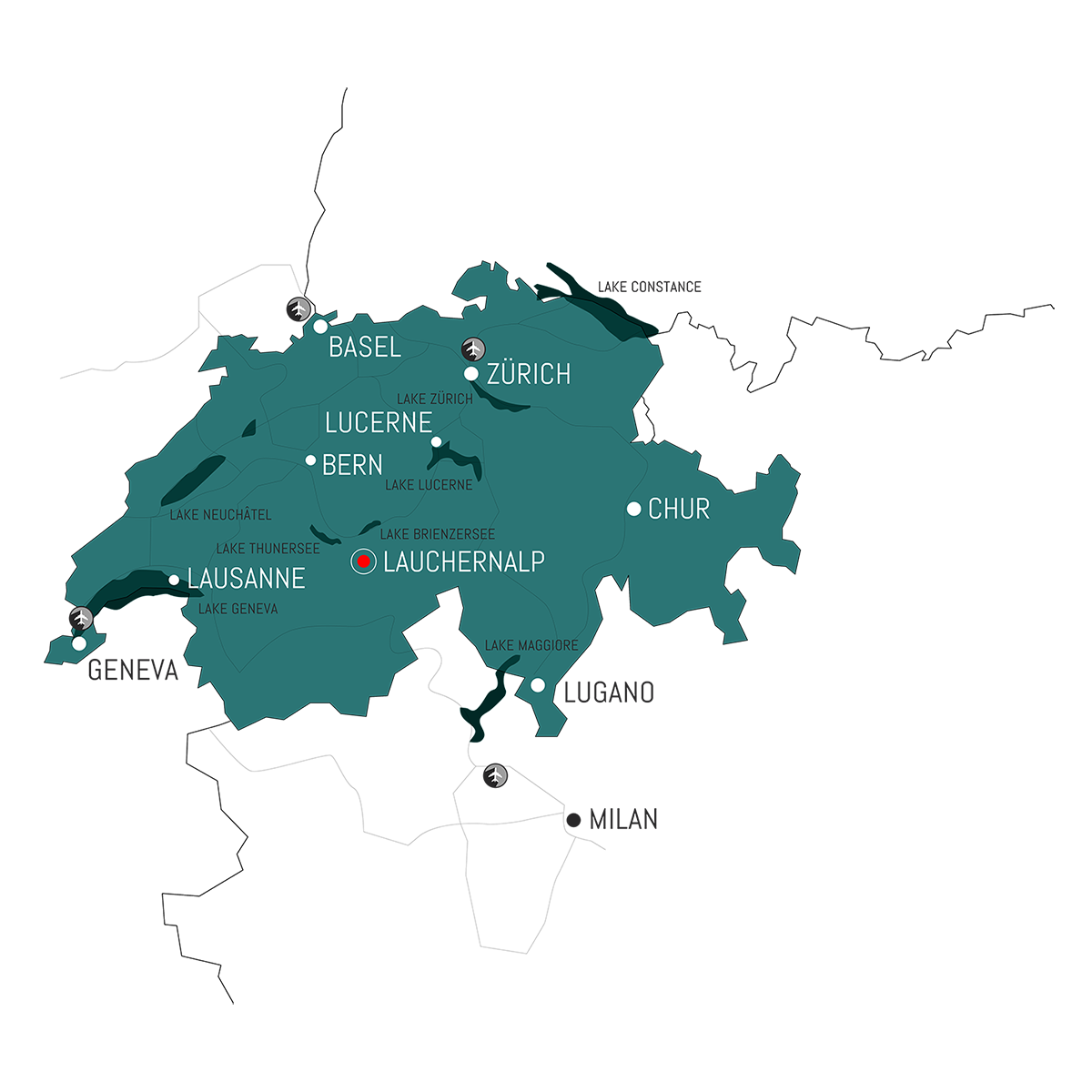 Lauchernalp Resort Residences belongs to the unique destination of Lötschental valley
Within easy reach of Bern, Geneva, Zurich and Milan.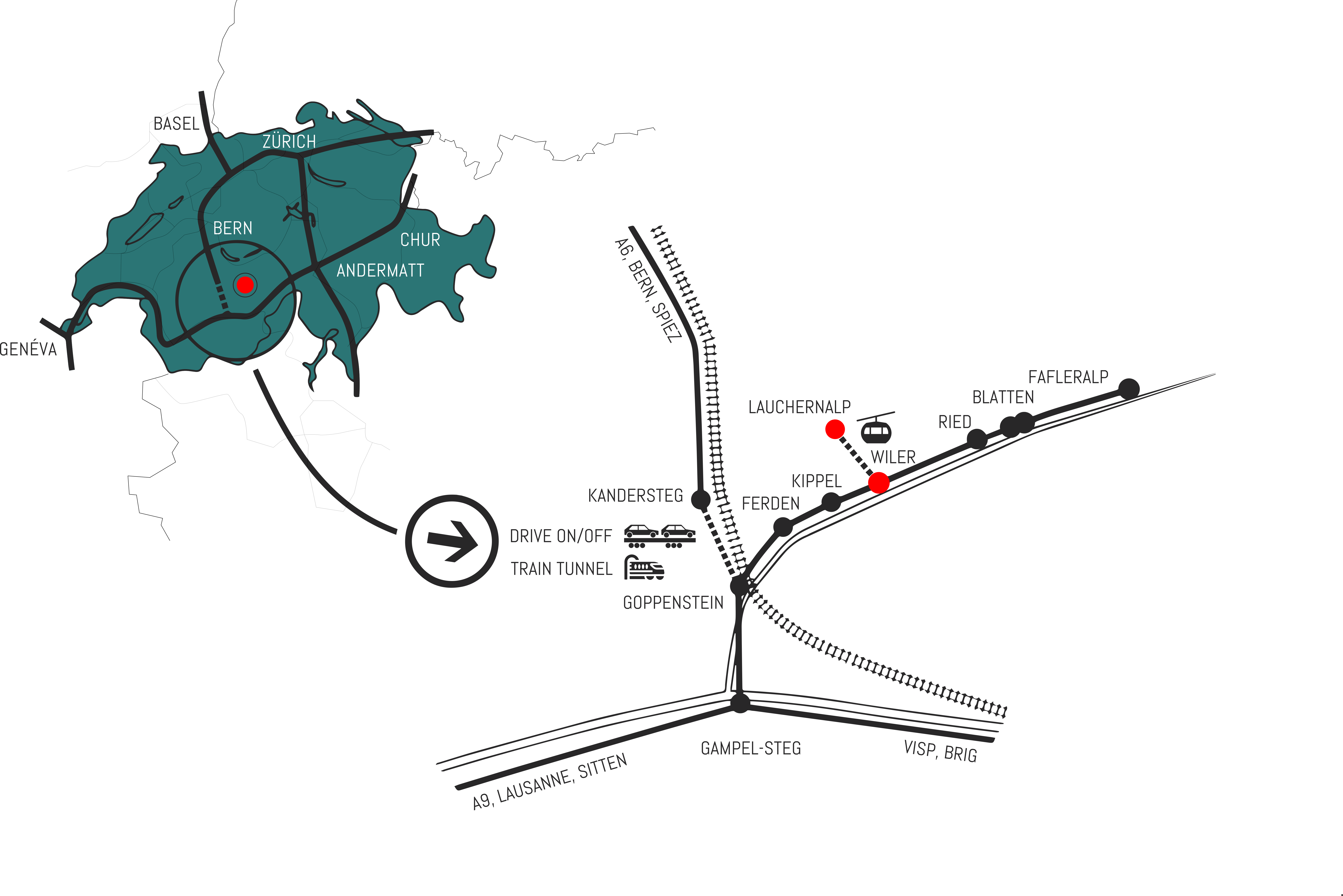 Lauchernalp Resort Residences belongs to the unique destination of Lötschental valley
Within easy reach of Bern, Geneva, Zurich and Milan.
Lauchernalp / Swiss Resort Residences
Unlock Your Future Lifestyle
Unlock Your Future Lifestyle
Welcome to our boundless back garden
Amidst a dramatic mountain landscape with gushing white-water streams, surrounded by meadows and forests, you can experience the beauty of untouched nature up close. Whether you enjoy adventure in the many forms of mountain biking or hiking, skiing or snowboarding, or rather simply kicking back and relaxing. The perfect conditions are available here all year.
Welcome to the great outdoors.
Seasonal Activities
365 Days of Natures Beauty
The area is a paradise for Winter sports enthusiasts. In addition to the close proximity of the ski lifts to Lauchernalp Resort Residences, there is also a helicopter-landing pad available for VIP guests.  On the glacier, at an altitude of more than 3,000 meters, you will find the highest winter hiking trail in Europe with a spectacular panorama of more than forty 4000 meter peaks. In the autumn there are separate hunting grounds, in the summer the location is perfect for mountain biking, climbing and trekking.
Skiing and Snowboarding
In winter there is the lure of the best interconnected ski arena with guaranteed snow – the winter sports paradise that is the Lauchernalp. The sunny ski resort has 55 km of pistes up to a height of 3,111 m above sea level and also has a quite unique freeride area. The Lauchernalp is just as popular with active skiers, from beginners to experts, as with families with small children, snowboarders and lovers of virgin snow. The ski arena offers simple blue runs to more challenging black descents – everything that a skier's heart could desire!
Against the backdrop of the imposing mountainous UNESCO World Heritage Site with 40 peaks higher than 4,000 metres, skiers can access the wonderful slopes of the Lauchernalp with its perfectly prepared runs either by cable car, two chairlifts, two tows and a glacier cable car.
Snowshoeing
Snow-clad pines, white hills, glistening snowy landscapes and around you only silence. Discover the Lötschental along 50 km of marked winter trails on foot or with snowshoes. Enjoy in the fresh mountainous air, the magnificent winter panoramic view of 40 mountains over 4,000m and recuperate while doing an off-piste winter sport!
Cross-Country Skiing
Is cross-country skiing your thing? Then discover our perfectly prepared network of cross-country ski trails that run along past the picturesque Lötschental villages to the Fafleralp. There are 24 km of classic or skating style cross-country trails to choose from to challenge you. Irrespective of whether you are an ambitious athlete or a leisure-skier, you will find a wide variety of trails to choose from in the Lötschental.
Mask Carnaval
During carnival week, "Tschäggätta" (frightful figures, clad in furs and wearing grotesque masks) liven up village life in the Lötschental. This pagan custom is practised from 3 February onwards in the Lötschental.
Adventure and Heli Skiing
 It is the realization of the dream of forging your own path from the highest summit down into the valley through undisturbed powdery snow. It begins with the adventure with  the feeling that you get when taking off from the ground.
The mountain panorama reveals a landscape that is simultaneously incomparably unspoiled, wild and peaceful. The subsequent free ride descent from a height of over 3000 meters above sea level will remain in your memory as an unforgettably spectacular skiing experience.
Summer/Spring/Fall Activities
Mountain Hiking
With its unique mountain and valley views and the loveliest upper valley in the whole of the Alps, the Lötschental is one of the most beautiful hiking areas in the Valais. With 200 km of marked hiking trails, the Lötschental is a paradise for hiking enthusiasts. The refreshing and energising mountain air in the Lötschental makes hiking an experience for both body and soul. And if rest and relaxation is what you are after, then you will find many quiet places to rest and reflect.
Mountain Biking
Mountain bikers' hearts also beat faster in the Lötschental, with a multitude of exciting biking possibilities.
Known for its wealth of traditions and pristine natural landscapes, the Lötschental valley promises visitors a unique experience in every way. Mountain bike enthusiasts enjoy magnificent panoramic views and spectacular routes – such as the Bietschhorn Trail.
Lake Swimming
Nothing in the world is as refreshing as jumping into a clear, cool mountain lake. But that takes a little courage. If you don't like it that fresh, you can enjoy these pearls of the Alps to the fullest from the shore. Most of the lakes can only be reached on foot. As wonderful places of strength and tranquility, they are popular hiking destinations. Untouched, they reflect their surroundings and the colors of the sky. And radiate a soothing silence. What could be nicer than cooling your feet in the clear mountain water after a long hike in heavy shoes?
Photography
Capture Mother Nature and all her flawless beauty throughout the seasons in the Lotchental Valley and surrounds. Landscapes forever changing in colour, with layers that will intrigue any keen photographer's eye. The perfect epitamy of the Swiss Alps. Warning, might/will cause much envy on any social platform.
Cultural and Traditions
The Lötschental is widely known as a valley with living traditions and rich cultural background. The remoteness of the Lötschental has given rise to a wealth of tales, legends and myths.
With the conservation of the ritual of the Easter Donation, Ferden has managed to preserve a memorial of a Christian sense of community, i.e. a custom that used to be common in a similar form in the entire alpine region. Every year, the milk produce of two days is processed into a special kind of cheese, which is then distributed to the inhabitants of Lötschental on Easter Monday. According to a medieval legend, this is done in order to break the curse of the Ferdener Alps.
Another tradition is that of the "Grenadiers of God". Wearing white and scarlet uniforms adorned with gold buttons, swords, rifles and a tall, white feather, they are descendants of men who fought in foreign wars. A piece of living culture that is still celebrated today with love and a sense of honour and one that the locals are happy to share with visitors to the valley. The Grenadiers of God can be seen taking part in the processions on the Feast of Corpus Christi, on Benediction Sunday (the Sunday following Corpus Christi), at dedication services, to celebrate the arrival of a new priest and during "Primiz" celebrations.
Lauchernalp Resort AG
Postfach 559
3918 Wiler – Lötschental
Toni Enderli
SALES DIRECTOR